There are two ways in which you can be part of the Woolly Wander project!
You can choose to take part in both of the knitting and crochet projects, or just the one that you prefer.
You can make multiple pieces of knitting... infact the more knitting we have, the bigger and better the project will be for the New Mills Festival in Septmeber 2011! :o)
Please make sure you send in all of your knitting and crochet submissions by: 1st AUGUST 2011
Project 1: Knit or crochet a candy bar or Swizzels sweet!!
QUICK MAKE GUIDE:
What We Need: LOTS AND LOTS OF KNITTED AND CROCHETED CANDY SWEETS
Theme: ANY COLOUR, BUT IDEALLY INFLUENCED BY CANDY COLOURS AND STRIPES
Size: ANY SIZE WILL BE GREATLY RECEIVED
We are taking inspiration from the world famous
Swizzels Matlow
who are from our very own town, New Mills, Derbyshire.
We would like to pay homage to the sweet factory, which is situated just down the road, by installing woolly sweets in and around the town centre as a woolly sweetie/candy trail that will lead from the
Swizzels Matlow factory
, up to the town centre and the New Mills Festival Site.
We will install the woolly candy in trees, around lamp posts, and in little spots around the town centre for people to discover and enjoy. This trail also will form a link to our second knitting installation (outlined below).
If you would like to knit or crochet a candy for our woolly wander trail, then here are a few ideas to get you inspired:
http://www.squidoo.com/playfood
http://www.knittingpatterncentral.com/index.php
Project 2: Knitted or crocheted candy car!!
QUICK MAKE GUIDE:
What We Need: LOTS AND LOTS and

LOTS

:o)

,

OF KNITTED SQUARES
Theme: ANY COLOUR WILL BE MOST GRATEFULLY RECIEVED AND USED IN THE INSTALLATION, BUT IDEALLY WE'D LOVE THEM TO BE INFLUENCED BY CANDY COLOURS AND STRIPES TO KEEP IN THEME.
Size: APROX. 12cm SQUARE
We love a challenge!
So we are going all out to wow the crowds at the New Mills Festival and we are going to completely cover a car in knitted squares. And, we're taking inspiration from the following projects:
ArtYarn's community SHED Jumper project...
Magda Seyeg's Crocheted Car: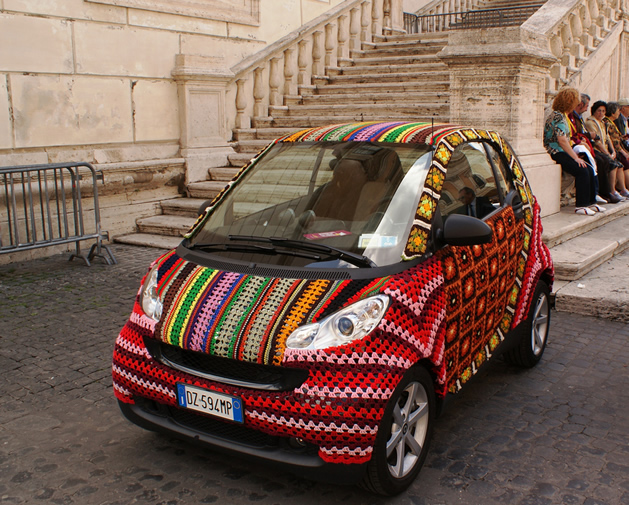 Once you have made your contribution to the project, you can pop it in the post to us and well feature it on the front page of this very blog... so don;t forget to include your name and location when you send it to us.
Please send all submissions to:
ArtYarn: c/o Rachael Elwell, Ebor Mill Studio, William Street, Littleborough, OL15 8JP
OR
NewMills Original: c/o Lyn Banister: 30 High Street, New Mills, Derbyshire, SK22 4AL